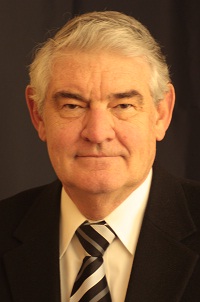 Education
J.D., William Mitchell College of Law
B.A., University of Minnesota
Other Experience
Qualified Neutral under Rule 114 of Minnesota General Rules of Practice
Member, Minnesota State Bar Association (ADR section member)
Member, Ramsey County Bar Association
Former director, Ramsey County Bar Association
Former member, Ramsey County Bar Foundation
Former member, Ramsey County Ethics Committee
Former referee, Ramsey County Conciliation Court
Former Ramsey County Legal Assistance Attorney
Former member, Federal Public Defender Panel
Former member, Ramsey County Juvenile Court Defense Panel
Past President, William Mitchell College of Law Alumni Association
Law Clerk to Hon. E. Thomas Brennan, Ramsey County Court
Michael T. DeCourcy
Michael T. DeCourcy, Sr. is a retired judge who focuses his practice on mediating and arbitrating civil cases.  Throughout his career as an attorney and trial judge, DeCourcy has handled and helped resolve thousands of cases involving numerous types of business, commercial, civil, criminal, family, probate and trust, and real estate matters.
Before joining DeCourcy Law and forming DeCourcy Mediation, DeCourcy was a Ramsey County District Court Judge for 20 years. He was first elected to the judgeship in 1990 and re-elected in 1996, 2002 and 2008.
During his service as a District Court Judge, DeCourcy was appointed by the Chief Justice of the Minnesota Supreme Court to preside over all asbestos cases in Minnesota, a post that he held for six years.  The asbestos calendar involved thousands of cases with millions of dollars in damages. DeCourcy also served as Ramsey County Probate Court Judge, where he presided over complex trust and probate litigation, as well as civil commitments, sexually dangerous persons and sexual psychopathic personality cases. On the criminal court, he tried cases ranging from murder and assault, to DWI and other offenses.
Prior to being a judge, DeCourcy established a private practice where he represented clients in civil, real estate, probate and criminal matters. In addition to his private practice, DeCourcy served as a part time public defender for 10 years in Ramsey County, where he represented individuals charged with felony, gross misdemeanor and misdemeanor offences.
While in law school, DeCourcy worked as a law clerk for the Hon. E. Thomas Brennan, Ramsey County Court Judge. After graduating from law school, DeCourcy served as an Assistant City Prosecutor and Assistant City Attorney in the civil division for the City of St. Paul.
DeCourcy is a nationally recognized presenter at CLE conferences across the country, and has been an instructor at the University of Minnesota Law School, William Mitchell College of Law, the University of St. Thomas and Inver Hills Community College.
He is a member of the Minnesota State Bar Association, Ramsey County Bar Association, the Alternative Dispute Resolution (ADR) section of the MSBA, and the California State Bar Association. He is admitted to practice before the U.S. Supreme Court, the United States District Court for the District of Minnesota, as well as state courts in Minnesota and California.  DeCourcy is also a qualified neutral under Rule 114 of the Minnesota General Rules of Practice.
Please contact Michael DeCourcy to discuss your ADR needs or your other legal issues.
Practice Areas
ADR
Mediation
Arbitration
Qualified neutral under Rule 114 of the Minnesota General Rules of Practice
Admitted to Practice
State: California, Minnesota
Federal: U.S. Supreme Court, District of Minnesota.